Online Components supplies parts that are compliant with the RoHS Directive. The RoHS Directive, or the Restriction of Hazardous Substances, was created to regulate components created using harmful materials such as lead and cadmium. 
To the best of our ability we have labeled all products with their known RoHS status. You can find this information on each product page.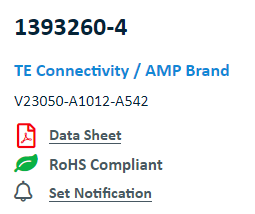 It is not uncommon to see a part with a variation such as an 'R' or 'LF' at the end. If the part is identified as RoHS Compliant in the product description, this does not affect the functionality of the part and is in fact identical to the previous part sans the 'R' or 'LF'. 
Eliminating the use of lead in electrical and electronic equipment was the primary focus for the RoHS Directive. This eliminates the environmental contamination in the waste stream which occurs with the disposal of non-compliant products. However many other chemicals/materials are restricted as well.
For more information about RoHS you can visit the official wiki page on the subject.  Restriction of Hazardous Substances Act